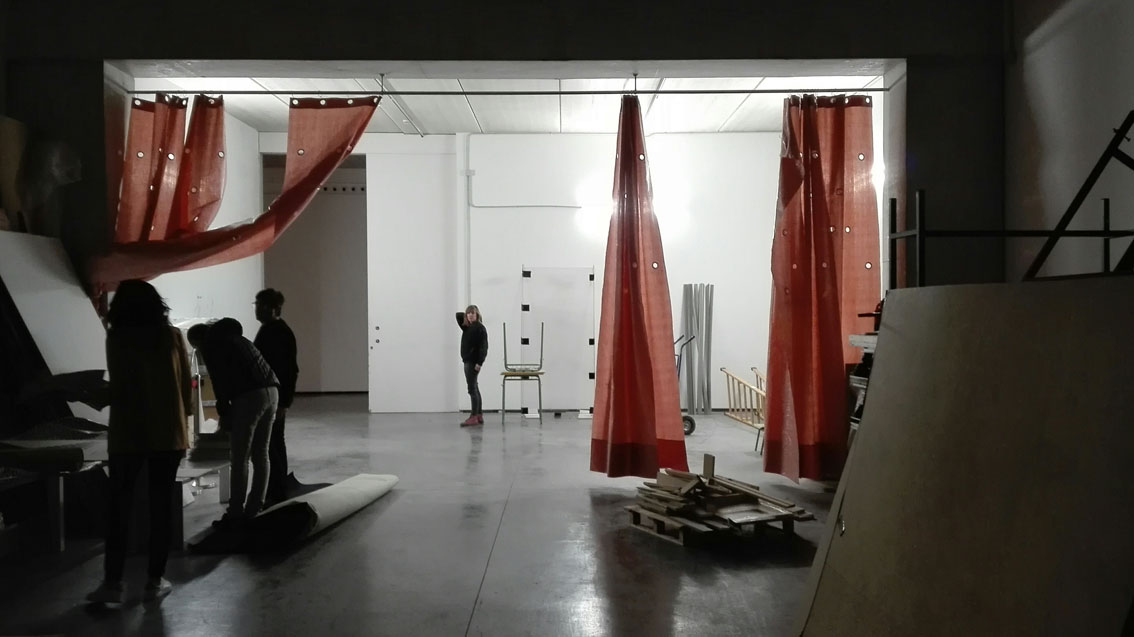 Pre-residency workshop "Repensar el contenedor" I
Lots of ideas have been developped during the workshop at Centro Huarte between the 24th and the 28th of November. The workshop has been organized by Orekari Estudio. This architecture collective from Pamplona will be our Spanish partner during the residency, helping us making contacts and exchange with the inhabitants of Huarte and other actors.
There has already been a participative week at Centro Huarte in September 2016. Orekari Estudio, which attended the event, presented its evaluations of the questionnaires that have been made during this participative week, as an introduction to the November-workshop. The people who filled these questionnaires are sorted in different categories of actors. First in two big groups: the artistic community and the inhabitants of Huarte. These two main groups are divided in other subcategories, like the children, the women, the old people or the institutions of Huarte – and the dancers, curators, painters etc. of the artistic community. Orekari Estudio made an analysis of the questionnaires and provided the following results: 66% of the members of the artistic community and 83% of the local population think that the Centro is not integrated in the urban space. For 100% of the local population, the Centro should enlarge its cultural offer – an auditorium would be for example a good idea. 83% of the members of the artistic community think that the Centro needs better communication channels. 50% of the members of the artistic community visit less than once a year the Centro, 33,3% of them only once a year and 16,7% once every three months. 66,7% of the local inhabitants enter the Centro only once a year and 33,3% of them every three months. According to this survey, the biggest problem for the members of the artistic community is that the Centro is a "huge, cold and empty cube" which should come back to life. The local inhabitants have also a negative vision of the Centro mainly because it is "expensive" for them. The huge volume of the Centro (6500m2) remains partly unused and therefore mostly ignored by the local inhabitants. Many interviewed people compared the Centro with a crematorium.
Some projects have been already discussed during the September-week. The propositions of the artistic community were for example a FabLab (with facilities to generate production spaces), meeting spaces for contemporary art, an union open to all the artistic and cultural workers of the region Navarra (sindicato), or a space for "fiestas" under the Centro (in the parking space). The propositions of the other group, the local inhabitants were spaces for the cultural associations of Huarte, a media-workshop and media-library,
a documentation room, a meeting-room where visitors and artists can meet, a space for the teenagers of Huarte, an auditorium, a green space, a meeting-room for the users of the Centro and a bar.